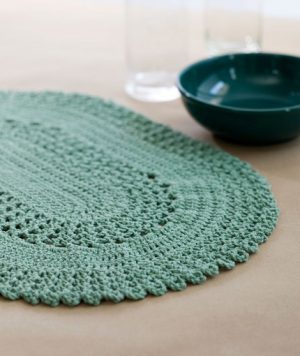 Crochet placemats add an eye-catching aesthetic to the dining table. These a personal touch to the house allowing you to free flow with your imagination of what your house must look like. We have rounded up some amazing tutorials and DIYs of crochet placemats patterns that will make your dining table visually appealing while hosting a lunch/ dinner party or even otherwise.
This is a simple lacy design that is great for novice first-timer crocheters. This will enhance the look of your table setting. Visit Red Heart for the free pattern and follow the step-by-step instructions to create your own project.
Beginners Crochet Placemats
This tutorial uses a Tahki cotton classic yarn to create different stripes of color using single crochet technique to create an aesthetic placemat. The pattern is easy to follow with detailed precession.
Free Crochet Pattern for Placemat
Colors always lighten up any place, even a boring dining table. Crochet different colors of large rectangular placemats for the plates and smaller ones for cups or glasses to add that extra touch of elegance and modernity. Employing chain and single crochet technique, this is perfect for beginners to the path of perfection.
Easy Crochet Placemats
The Spruce / Kathryn Vercillo
You can crochet your placemat in any shape like for example in this tutorial the light colored oval mat with wavy outer ridges and detailed patterns give it a classy feel. The worsted yarn used is just a cherry on the cake.
Crochet Oval Placemat
Crochet allows different shapes of placemats for different purposes employing various techniques. Incorporating different hues which compliment each other to create an intriguing circular pattern is a spot on combination for any dining table. Circular patters will give a perfect outline to your plates and other utensils on the table.
Crochet Pattern for Placemat/ Fiber Flux
Using the yarn of your choice you can create this simple looking yet stylish placemat. Play with your color pallet to give it a more attractive look.
Crochet an Oval Placemat
Nothing says love more than a hot meal with a romantic atmosphere. So why not throw all the love you have for your special one and place this handmade heart-shaped placemat on the table of affection and love.
Crochet Heart Placemat
Waffle loves can never get enough of that sugary goodness. This themed waffle stitch placemat is a soul mate for the dining table. The different colors are just added colors to the placemat.
Free Pattern Crochet Placemat
Texture always stands out and so will this Chevron doubled colored placemat piece creating an impressive table. Use contrasting colors to make the Chevron pattern really pop.
Crochet Table Placemat
This lacy looking doily definitely has something out of the box about it. Notice the integrate flower work, starting from the middle of the placemat and ending at the circumference of the mat joined by wavy edges.
Crochet Placemat Patterns
Swirl your way to upgraded furniture décor with this twisted, colorful placemat pattern. Match or contrast them with your serving utensils for a more extravagant look.
Spiral Crochet Placemat
Get the best of both worlds with this reversible mats by knitting a double or multicolor piece. You can change your mats without effort and get the most use of it.
Crochet Table Mat Pattern
Dog lovers know that there is no such thing called 'too much love' for their dogs and will never shy away from showing it. So here is a simple tutorial of a dog bone shaped mat with a paw knit at the corner for extra detailing.
Crochet Dog Bone Placemat
Getting your feast ready for thanksgiving? Place the turkey dish over this turkey-shaped placemat for a definite conversation starter.
Crochet Kitchen Placemat Pattern
Crochet Placemat in Watermelon Shape
Handmade Crochet Table Placemats
Personalize your home décor with changing season and its colours. Using cotton yarn of two typical colors of the sun that we know of – orange and yellow, warm up the dining area. These pieces are not only ridiculously easy to knit but also literally lighten up the area due to the bright colors.
Crochet Placemat
As the name suggests, this placemat is a combination of classy solid color pieces connected together. The combination of lilac, white, café Au Lait (coffee color) and ecru (light beige) perfectly uplift each other.
Crochet Placemat Pattern
Jute can also be a great crochet material to add a rustic touch to your house décor. Just look at the fine finishing of this mat with beautiful integrate work.
Jute Crochet Placemats
Crochet Lace Placemat
Crochet Daisy Place Mat
Why go for typical shapes when the end result can be a beautiful flower? Sunflowers always remind us about warmth and happiness and these sunflower shaped mats bring the same to the table. These placemats will surely brighten up the table setting and can be used for spring and summer lunch, or outdoor barbecue parties.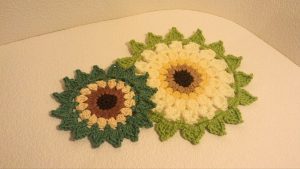 Crochet a Sunflower Placemat
Crochet Mandala Placemat pattern
This frosty green placemat is simple and a warm gift for your loved once. The scalloped edges add an extra detail to the mat.
Crochet Placemats
Crochet Flower Placemat Design
Round Motif Placemat
Celebrate the 4th of July with this flag placemat. Knit a half-and-half blue and red and white color beautiful flag placemat for your guest to talk about.
Patriotic Placemat Crochet
The classic colors, orange and black of Halloween definitely helps this mat to stand out. The Tunisian simple stitch is easy to follow and gives the final product the kind of finish like no other.
Tunisian Crochet Placemat Pattern
Seasons change, so why not the décor? Upgrade every season and for autumns what defines it more than beautiful brown and reddish fallen leaves!
Crocheted Placemat
Another addition to your Halloween placemat collection can be this pumpkin-shaped placemat. The face features an extra edge of details bringing out the festive feel.
Crochet Pumpkin Placemat
Crochet Christmas Placemat
This simple lacy mat with an added detail of a white flower is east to knit and to clean afterwards.
Crochet Flower Placemat
Each flake is unique and so can be your dining area than that compared to others with this lacy looking snowflake-shaped placemat. Nothing says "winter's coming" more than snow.
Crochet Placemat Tutorial
Excite your kids with this cute and highly detailed snowman mat. The flower on the scarf and the gloves just steels the show. You can also gift this to a close friend or relative.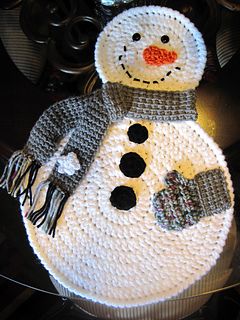 Crochet Snowman Placemats
Crochet Holiday Placemat Pattern
Have a lit party this Halloween with this spooky spider wen mat of neon green and grey combination. Knitted to perfection this mat portrays fine work of a craftsman.
How to Crochet Placemats
With all the techniques and neverending shapes and styles that you can try, there is an ocean of designed placemats out of which we tried to narrow down a few to try your hands on. We hope you try some of these and get crafty!