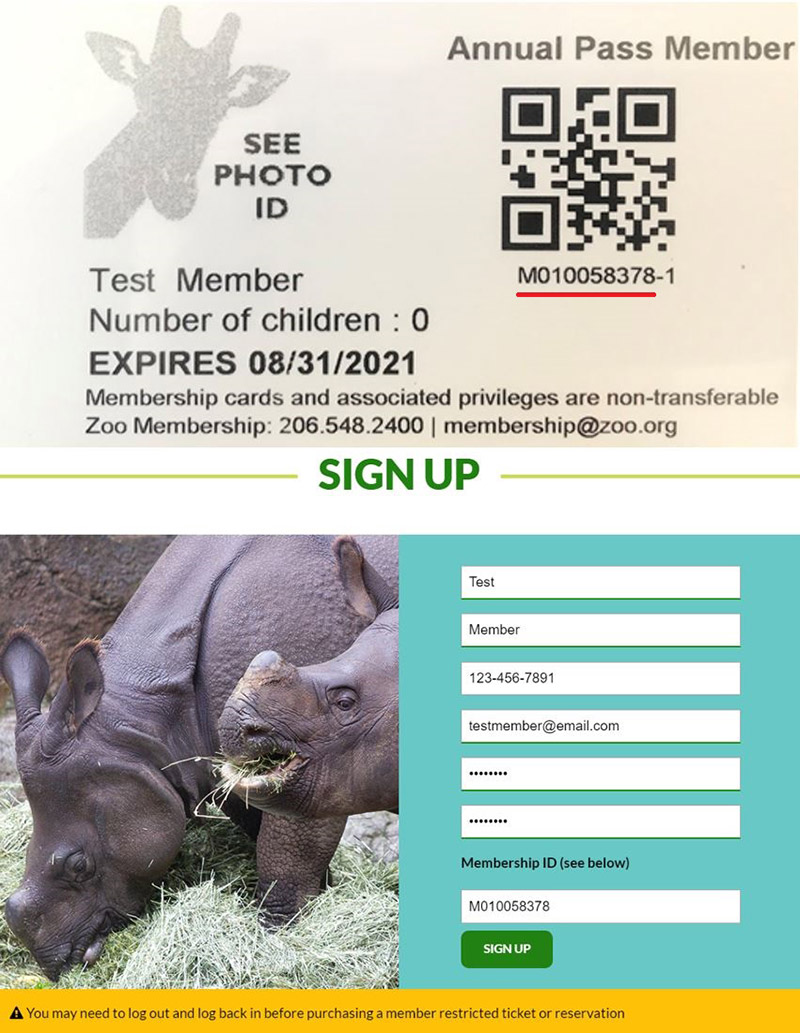 Will extra time be added onto my membership because of the zoo's temporary closure?
Current memberships and those purchased or renewed during this temporary closure have been extended for applicable length of closure, and those extensions will reflect 12 months of active membership status. This includes all levels of annual membership, including Explorer Pass and Wild at Heart.
If your membership expired 3/31/2020: your new expiration date is 7/31/2020.
If your membership expired 4/30/2020: your new expiration date is 8/31/2020.
If your membership expired 5/31/2020 or later: we've extended your membership by three months.*
*Those expiring after 2022 will not receive an extension.
Do I need a timed entry reservation if I am a member?
All guests, including members, will have to reserve an entry time for their visit and are strongly encouraged to do so prior to visiting. If member entry is sold out for a particular time and date, please look to reserve your member entry at another time and date with open member entry availability. Paid general admission reservations cannot be transferred to member entry reservations, nor will we refund general admission cost for any members who visit the zoo using a general admission entry reservation.
To reserve your member entry, please visit shop.zoo.org, log into your purchasing account and use the Member Reservation option on the Tickets tab to reserve the date, time and number of member entry slots needed. Please limit your party to 10 individuals, including children ages 0-2, guest pass users and those visiting via your half-price guest benefit.
Guests and members should avoid arriving earlier than 5 minutes prior to their entry time. If you arrive early, please wait inside your vehicle if possible.
Having issues reserving member entry?
If you made an online membership purchase prior to March 3, you will need to create a new purchasing account and link your member ID (due to our ecommerce update). If it is not letting you create a new account or log into yours, make sure you are using the name of the primary named adult on file and email address on file/used for purchase or renewal.
If you can't find your member number, it is below the QR code on the back of your membership card. If the member number is not working online, make sure you: include the M or E at the beginning of the number, do not include the dash at the end or number following it, and use 0 (zeros) instead of O (letter Os).
Here's an example of where your member number is on your membership card, and which pieces of it to enter when creating your new purchasing account: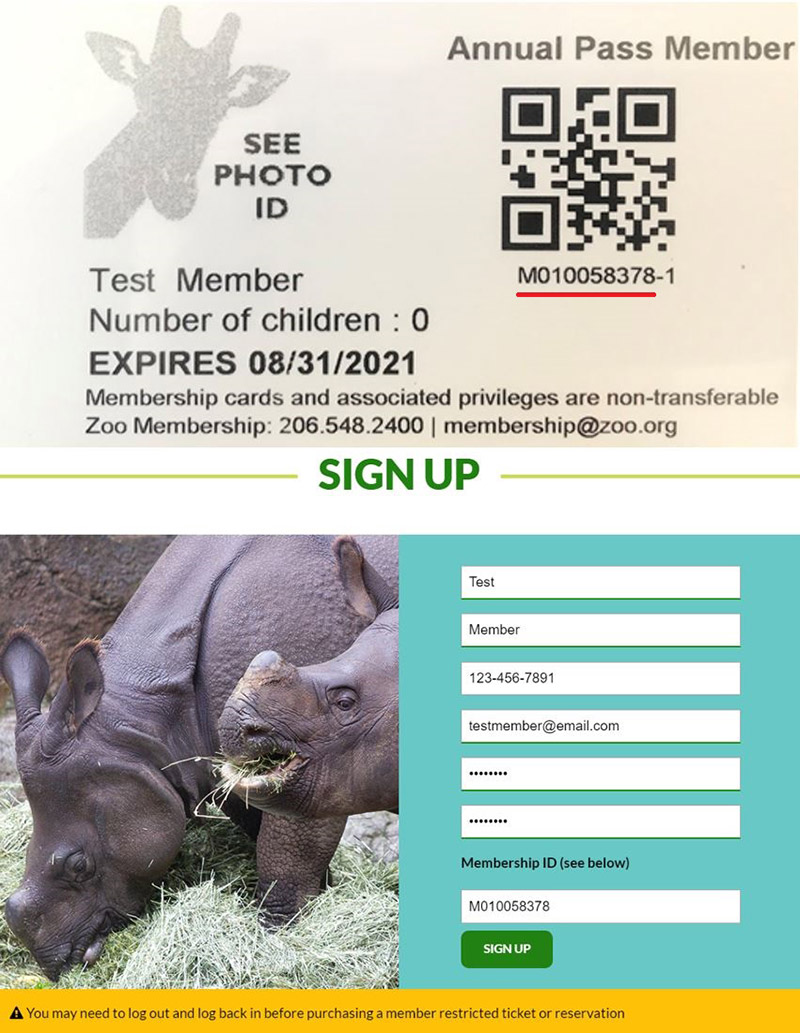 If you are not able to reserve entry for a particular date or time, it may be sold out—here's what that looks like: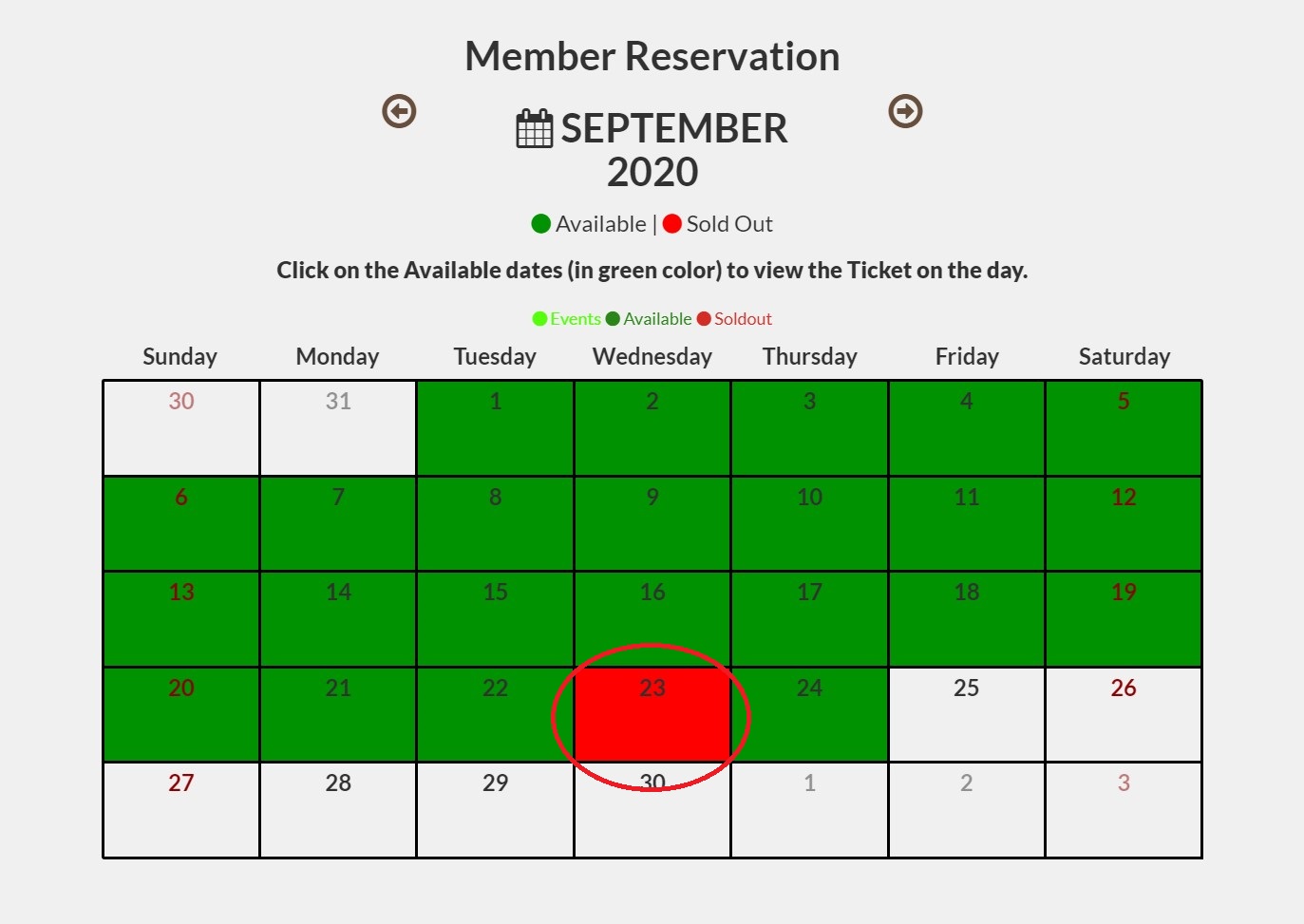 Sold out date.

Sold out time.
If a date/time is sold out for member entry, you'll need to look for a new date/time to visit as a member with $0 entry. Tip: try planning your visits for the afternoons, those member entry times are usually the most available!
What safety measures is the zoo implementing to keep members and guests safe?
Am I still able to receive half-price tickets for my guest?
Yes, each named adult is still able to bring up to two half-price guests with them per visit when present. In order to ensure they receive the same member entry slot as you, please remember to include them in your ticket reservation as a member. However, you will still need to purchase those half-price tickets at the gate prior to entering the zoo. Maximum number of half-price guests per day cannot exceed the amount allowable by your member level. Please ensure you and your guests account for possible wait times while planning your up-and-coming visit.
Will there be any changes with my benefits?
All general member benefits will remain the same and have not changed.
Parking: The member discount for parking will only be available at the gate and will not be available using the app. Discount does not apply to special events.
Onsite: if the service is available, your discount will apply; if not, the service and the discount will be available to members once it is available again. Available includes: ZooStore, food and beverage, photo memories, and caricatures. Temporarily unavailable includes: face painting, henna, Letter Brush, Handimals, Carousel party rentals.
Family Passport and Conservation Partner members: please note that the carousel punch cards and animal experience passes will be temporarily unavailable to redeem at this time. However, once those experiences return in the future, you are welcome to use them again.
Can I get a refund for my membership?
All membership purchases are final, and membership cards and associated privileges are non-transferable. Refunds will not be issued for any reason. However, for members whose expiration date fell during the temporary closure and beyond, please see our extension policy above.
Can I still visit other zoos and aquariums with my membership?
For Woodland Park Zoo members: It is up to the discretion of each reciprocal organization if they are honoring the discount. Please contact the zoo or aquarium prior to visiting for more information.
For members of other participating Association of Zoos and Aquariums-accredited institutions: Woodland Park Zoo is not offering the reciprocal membership discount at this time.
Will there be any member events this year like Zoofari or member previews?
As a special thank you to our members this year, we will be having a two-day member preview of the zoo to celebrate reopening on June 29 and 30. Due to recent events, Zoofari and the two early mornings included with Conservation Partner level have been cancelled this year and we look forward to having these events return in the future.
I have a gift card and would like to purchase membership/guest tickets, how do I redeem it?
Gift cards can only be redeemed at the gate on your next visit. Please allow yourself extra time prior to your visit to accommodate for extra wait times and entry time slots.
Want to make multiple entry reservations at one time?
Plan your next few visits ahead of time and enjoy the wild adventure every zoo visit brings! Member entry reservations are bookable up to 30 days in advance, and the system allows you to make multiple member entry reservations, one after the other—even for consecutive days! Check out this tutorial if you are having any issues making multiple reservations.
For foster and kinship families* or recipients of EBT/Washington Quest or WIC assistance only
Membership benefits are subject to availability.
Did you already pay to visit the zoo for the day? You can apply what you spent on admission* toward membership!
Bring your receipt or ticket to the membership office at either zoo entrance, or call membership customer service at (206) 548-2425.
Receipt or ticket required. Offer expires one month after ticket purchase.
*We apply a portion or full amount you paid for your recent ticket(s) toward the cost of your annual membership on a one-for-one basis. For instance, one adult/child ticket purchase may be applied to one adult/child member add-on.