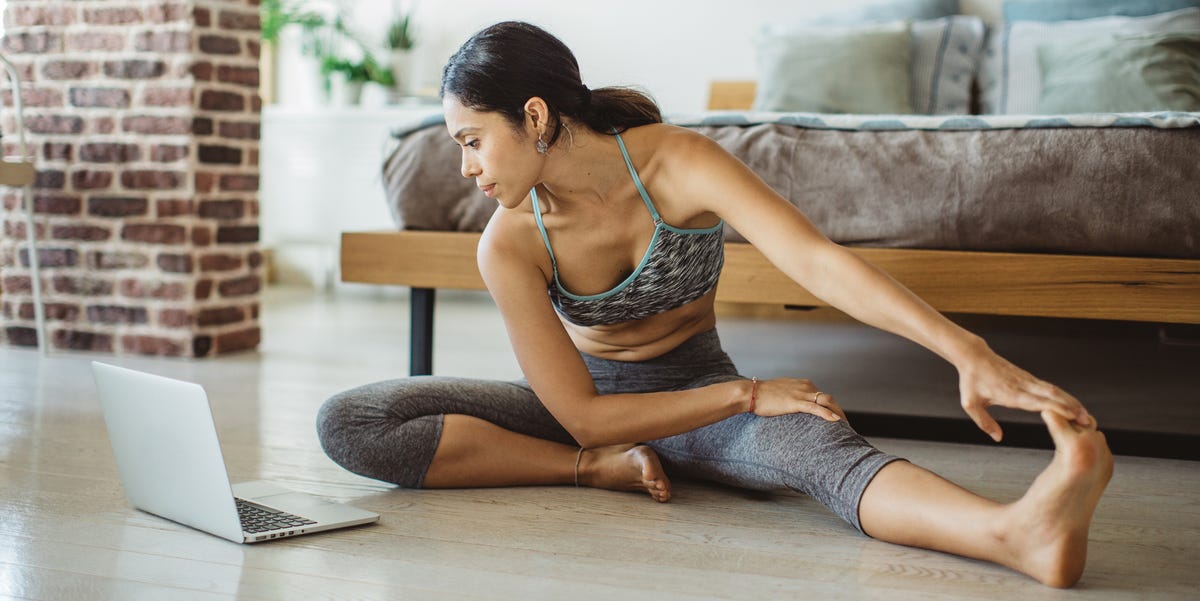 1 Morning Yoga Workout | Boho Beautiful
This morning yoga workout will wake you up by gently raising your heart rate while lengthening and strengthening your body from head to toe. Plus, it's quick enough to squeeze in before the day gets busy.
Rating: 177K likes
Views: 17MM
Time: 17 minutes
2 Total Body Yoga Workout | Fightmaster Yoga
Stretch and strengthen every part of your body in this 30-minute workout from Fightmaster Yoga.
Rating: 4.2K likes
Views: 140,798
Time: 30 minutes
3 Yoga for Complete Beginners | Yoga With Adriene
Total yoga newbie? Adriene from Yoga with Adriene has you covered with this workout designed specifically for first-timers.
Rating: 323K likes
Views: 23.6MM
Time: 23 minutes
4 Ease Into It | Yoga With Adriene
If your workout mood is more "balance" than "burn," this flow is for you.
Rating: 190K likes
Views: 19MM
Time: 35 minutes
5 Yoga for Weight Loss | Yoga With Adriene
Get your heart rate up and your core muscles firing with this 38-minute practice intended to help you burn calories.
Rating: 64K likes
Views: 8MM
Time: 38 minutes
6 Morning Total Body Yoga Burn Workout | Daily Dose
Own your morning with this supercharged flow intended to rev your heart rate and kickstart your metabolism.
Rating: 8.9K likes
Views: 536,838
Time: 60 minutes
7 After Workout Yoga | Boho Beautiful
This short flow is the perfect length for adding into another workout or after a tough class when you need some extra time to stretch and recover.
Rating: 15K likes
Views: 1.5MM
Time: 8 minutes
8 30-Minute Power Vinyasa Flow with Briohny Smyth | Alo Yoga
This power vinyasa flow from Alo Moves will challenge your stamina, strength, and flexibility while opening up your hips and front of the body.
Rating: 15K likes
Views: 1.1MM
Time: 30 minutes
9 10-Minute Morning Yoga Full Body Stretch | Yoga with Kassandra
Use this quick flow to wake up your total body or as a post-workout cooldown.
Rating: 89K likes
Views: 4.4MM
Time: 10 minutes
10 20-Minute Full Body Yoga Stretch | SaraBeth Yoga
When you need a deeper stretch, this video helps you focus on flexibility and lengthening out from head to toe.
Rating: 18K likes
Views: 1MM
Time: 20 minutes
11 Yoga for Anxiety and Stress | Yoga with Adriene
This yoga sequence will help you relax as you connect your breathe to asanas intended to help you cultivate calm.
Rating: 49K likes
Views: 4.3MM
Time: 28 minutes
12 Yoga for Neck, Shoulders, and Upper Back | Yoginimelbourne
This video will help you unwind and work out the kinks in your upper body in under 15 minutes.
Rating: 12K likes
Views: 1MM
Time: 14 minutes
13 Bikini Yoga Flow | Tone It Up
Beach yoga, anyone? This 20-minute flow from Tone It Up is great for all levels and easy enough to do anywhere.
Rating: 4.6K likes
Views: 786,789
Time: 20 minutes
14 10 Minute Yoga Workout For Beginners
Here's a short, introductory workout is designed for newbies looking to start a beginner yoga practice.
Rating: 30K likes
Views: 4.4MM
Time: 10 minutes
15 Morning Yoga for Flexibility | Tara Stiles
Start your day with YouTube star (and yogi pro) Tara Stiles with this flow you can do in under 10 minutes.
Rating: 14K likes
Views: 2.7MM
Time: 7 minutes
This content is created and maintained by a third party, and imported onto this page to help users provide their email addresses. You may be able to find more information about this and similar content at piano.io