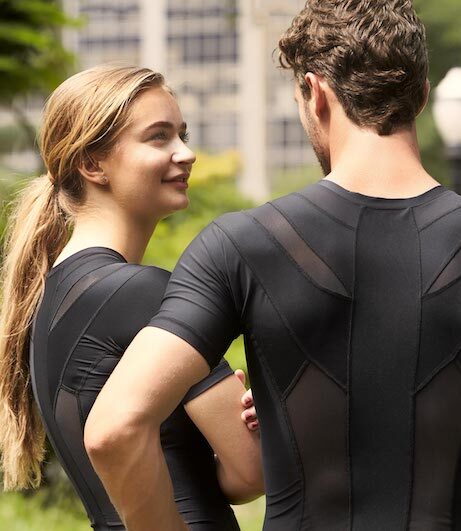 The original Posture Shirt™ from ActivePosture®
helps you achieve a better posture!
The unique ActivePosture® Posture Shirt™ 2.0 is a posture correcting shirt which helps you achieve an aligned posture in your daily life. 
The shirt can be used in all daily activities; at work, when exercising, or in your leisure time. The patented NeuroBand™-technology behind Posture Shirt™ 2.0 helps activate your back and shoulder muscles. This helps you gain a better awareness of your posture in your everyday activities.
The NeuroBand™ technology found its inspiration in the use of kinesiotaping, which is a rehabilitative technique used by physiotherapists and more. For instance, kinesiotaping is used in the treatment of patients suffering from pain and tension in shoulders, back and neck.
Posture Shirt™ 2.0 is made of durable materials in high quality, which make this posture correcting shirt comfortable to wear.
Helps to maintain an optimal posture
Can reduce tension and pain in muscles
Flexible, breathable and durable materials
Perfect for use at work, exercise and down time
100% satisfied within 30 days or get your money back
Been working for home for 4 months now…
Been working for home for 4 months now due to the outbreak. The poor sitting position at my kitchen table, and hours a day on video calls has been causing me back and neck ache – getting worse with time. I'd seen this shirt advertised for a while and decided to give it a try. And it was a great decision – this makes me sit up straight at my desk and has completely resolved the aches and pains. Absolutely worth the investment.

Amazing pain relief
Wow, brilliant product. I have chronic neck and shoulder pain from an old injury. Despite products to assist with computer positioning I find desk-based work results in increased pain. This shirt made a huge difference, very little neck and shoulder pain when wearing this even after two full days at my desk. I was doubtful about the cost of the shirts but the impact on my pain level totally justifies the outlay. I have just ordered more.
Posture Shirt™ 2.0 helps you maintain a natural and aligned posture by stimulating the muscles in your neck, shoulders and back.
This is often necessary for those with sedentary work life. Here the  posture correcting shirt from ActivePosture® will help you not to slouch. Rather, it will help keep your back and shoulders in the most natural position.
In addition, Posture Shirt™ 2.0 is great to use if you have a job where you are standing most of the day. This could for instance be as a hairdresser or a cook. Since the shirt will remind you of aligning your posture, it can prevent muscle tension and pain stemming from a poor work posture.
Posture Shirt™ 2.0 provides the optimal support when you exercise. This is because the shirt helps activate your back, neck and shoulder muscles. In that way, you are inclined to do your exercises correctly and with a natural posture.
The posture correcting shirt does not overtake the functionality of your muscles and make them inactive. Rather, it allows you free movement and encourages you to utilise the body's natural mobility. 
This will allow you to maximise your efforts when exercising and minimise the risk of pain and tension afterwards. In addition, the shirt is ideal to wear during recovery as it facilitates muscle relaxation.
Posture Shirt™ 2.0 can help increase your posture awareness and is a great tool when dealing with various pains. 
Maybe you have a long-standing injury, for instance in your shoulder(s) or back? Or perhaps you suffer from arthritis, scoliosis, a herniated disc or similar? Then you can benefit from wearing a posture correcting shirt as a supplement to your treatment. However, before you start using a posture correcting shirt it is highly recommended to consult a professional. That way, you make sure the shirt is a suitable aid to treating your condition.
Perhaps a friend of yours recommended ActivePosture® to you? In fact, a survey amongst 1,000 people using ActivePosture® clothing showed that 82% would recommend the products from ActivePosture® to family, friends or colleagues. 
I use Posture Shirt™ 2.0 from ActivePosture® in my treatment of patients – with great effect. It provides great support for neck, back and shoulder patients, but I also use the shirt in cases, where an acute rehabilitation issue has occured. 
The original Posture Shirt™ 2.0 from ActivePosture® is registered as a medical device (CE marked) and has been sold to millions world wide. The shirt is available for both men and women. It comes in two models – with and without zipper – and in many different colours.
Activates and stimulates your muscles
Patented NeuroBand™ technology
CE registered as a medical device
Antimicrobially treated
Note that the original Posture Shirt™ 2.0 can only be purchased at ActivePosture®. Also, Posture Shirt™ 2.0 is the only posture correcting shirt on in the UK which is registered as a medical device. Unfortunately, you will find many fake products and firms on the market which make false claims about their clothing. Therefore, you should pay attention to the CE-registration on these products to ensure you buy products which actually work. 
The Posture Shirt™ 2.0 from ActivePosture® is intended to help your body adopt an optimal posture. What makes this posture correcting shirt unique is the patented NeuroBands™ incorporated into the shirt. 
The technology behind these NeuroBands™ is based on research on human physiology and is inspired by kinesiotaping. Kinesiotaping supports the body's natural healing processes and is very often used by physiotherapists as part of their treatment.
The NeuroBands™ are absolutely central to the ability of the shirt to promote a better posture. As the bands activates your muscles in the back, shoulders and neck, it helps keep the upper body in its optimal position. 
The shirt can be used at work, when exercising, or in your spare time. So practically in all situations where you want to remind your body of the aligned posture.
Posture Shirt™ 2.0 can have both a preventive and treating effect on pain and tension in the back, neck, shoulders, and even headache. Such pain often occurs due to poor posture and/or when being stressed or overworked. So if you suffer from pain or tension in these areas, a posture correcting shirt can be a good supplement to combat these issues.
With its patented NeuroBand™-technology the shirt stimulates and activates the muscles without inhibiting movement. The shirt allows you to keep full mobility while feeling gentle support and be reminded of keeping your posture aligned. 
Read more about the technology
Play Video
Unique features of the ORIGINAL Posture Shirt™ 2.0
The posture correcting shirt helps you to increase your postural awareness. It can be used in everyday life and at work, while being active and relaxing. At the same time, it works as a great supplement to exercises and when combatting pain and tension in the back. The combination of the supportive NeuroBands™ and the antimicrobial treatment of the materials provides a flexible, comfortable fit and high breathability. This elasticity and flexibility provide the right posture correcting effect without compromising your freedom to move.
As the only posture correcting shirt in Europe, Posture Shirt™ 2.0 is CE-certified and registered as a medical device (class 1). The CE-mark is your guarantee that the shirt meets the requirements set for medical equipment. 
Similarly, it is the only posture correcting shirt registered in the American FDA.
As a customer, these certificates help ensure that you invest in a medically approved and quality-assured product. 
Posture Shirt™ 2.0 is distinguished by the fact that it is developed with the patented NeuroBand™ technology. 
This technology is developed on the basis of studies in human physiology and with inspiration from kinesiotaping.
The posture correcting shirt is developed with the aim of promoting a naturally aligned posture by mirroring your own muscles.
Posture Shirt™ 2.0 is made of a unique composition of spandex, nylon and polyester. This mix makes the material durable and of the highest quality. At the same time, it ensures breathability and full mobility.
In addition, the clothing is antimicrobially treated. This means that the sweat transports away from the body, making it ideal for exercising and other everyday activities.
Contact: info@posture-shirt.com