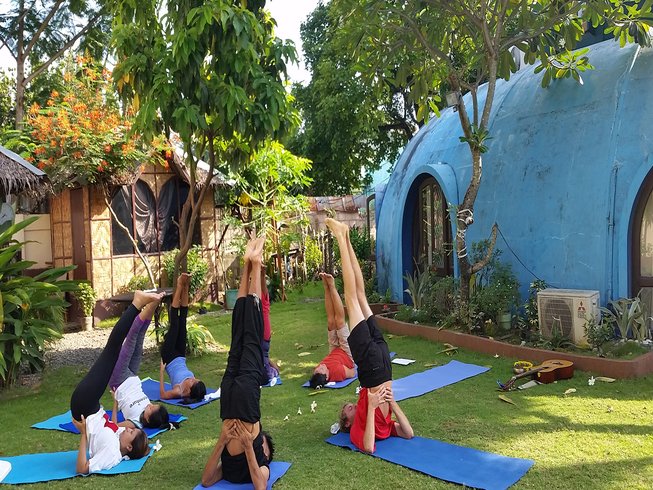 AM Yoga Wellness is the longest established naturopathic residential facility in the Philippines and prides itself on its affordability. It functions both as the treatment center for the public, and a training center for people making similar programs and centers throughout the world. Central are daily guided meditation and yoga, communal vegetarian meals with "a Naturopathic focus", and an on-staff registered nurse (RN) for those with adaptive or special needs, or interested in monitoring their progress. Supervised health, fasting, and natural healing are available.
The center offers a completely natural therapy healing system. Programs may last any length of time, from a day to a week to several weeks, for both groups and individuals. AM Yoga Wellness visitors relax in a simple garden and lawn and enjoy life in a unique dome designed to harness healing and spiritual energy. It is snuggled onto clean grounds alive with small vegetable and herb gardens and the welcome natural growth of some scattered tropical fruit-bearing foliage.
The garden and lawn are a good place to have mud pack, sunbathe and other treatments. It is also ideal for fun activities and games. Schedules are light-hearted as each day includes interesting activities, yoga, and plenty of time for relaxing or walking. In Cebu, you can explore mall shopping in the cosmopolitan city or enjoy fun in the sun, stretching out on beach excursions.
AM Wellness Center Philippines Agenda
05:30 Morning Walk
06:00 Yogic Kaoshikii Dance
07:15 Kiirtan & Meditation
08:15 Morning treatment (sun bath or mud pack)
09:15 Breakfast
10:30 Daytime activity (cooking class or art therapy)
11:15 Yoga Class
12:30 Kiirtan & Meditation
13:15 Lunch
15:00 Daytime activity (cooking class)
15:30 Afternoon treatment (mud pack or hot foot bath)
17:00 Cardiovascular exercise ( exercise room)
18:30 Kiirtan & Meditation
19:15 Dinner
20:30 Evening walk
Note: the yoga practice is very simple and easy to do. Good for anybody, but especially those who just want to relax, or have physical problems, or have not had much practice of yoga.