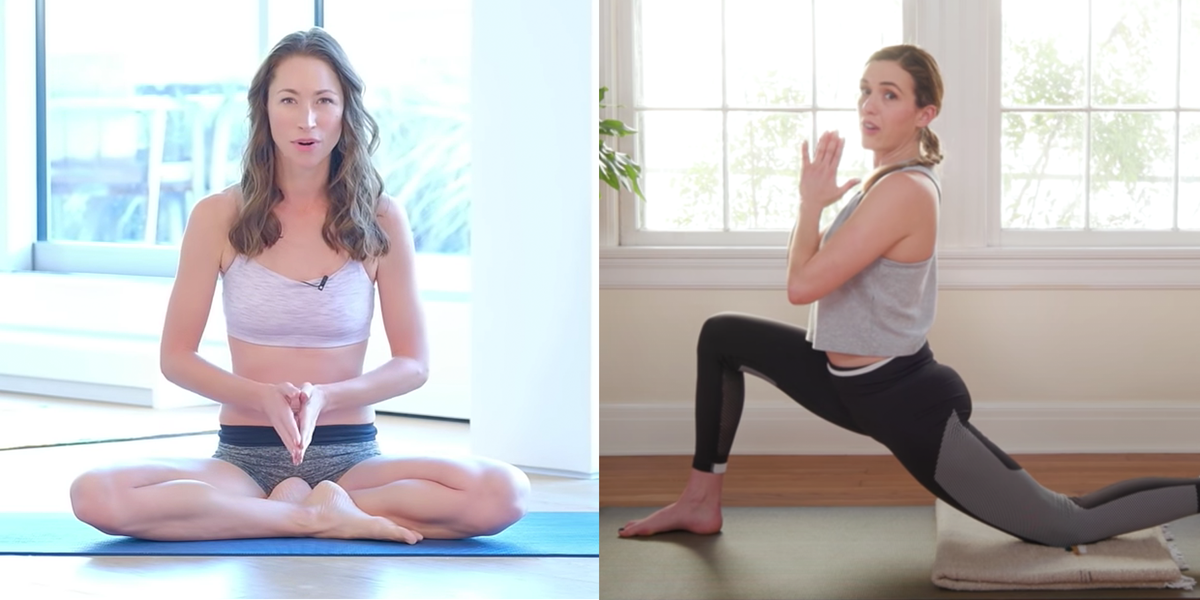 1 Tara Stiles's "Morning Yoga Fix" (11 min)
Instructor and author Tara Stiles has Morning Yoga Fix, a slow-moving 11-minute flow sequence to gently wake up your muscles and joints with a combo of sitting and standing poses. It's an effort but not a major challenge, and Stiles encourages enjoying the feeling of the stretches and breathing, rather than pushing yourself any harder than you have to. Good for any level, and it will leave you feeling centered and ready to face whatever the day throws at you.
2 YogaTX's "Core Strength Yoga" (15 min)
Chance Cole, a friendly, dreadlocked Austin yogini at YogaTX jokes and chats you through Core Strength Yoga. This 15-minute belly-focused sit-up-free workout, she says, is especially good for people with lower back pain. "You really need to strengthen the front body so the back body doesn't have to work so hard."
3 Yoga with Adriene's "Yoga for Tension Relief" (28 min)
Yoga with Adriene's Yoga for Tension Relief (also starring her sleeping dog, Benji) is a 28-minute, low-effort treat that allows you to simply calm down and deflate without asking much of you in terms of physical energy. Most of the poses are seated, breath-based and meditative, so it's prefect to bring your activation level down and end the session with your body and mind feeling relaxed. Adriene's popular YouTube channel has dozens of videos for every purpose and level if you click with her as a teacher.
4 Fightmaster Yoga's "Total Body Yoga Workout" (30 min)
With her soothing yet motivating tone, Lesley Fightmaster leads you through this Total Body Yoga Workout, filmed on a beach retreat in Italy. It's 30 minutes of challenging flow of standing and sitting poses, for when you want to feel like you've pushed yourself a little. Fightmaster gives you the pointers you need to make the poses more or less challenging, depending on your experience level and what you're up for that day. This video is free but Fightmaster has a community you can join for exclusive classes and videos geared toward personalized goals.
5 Bad Yogi's "Simple At Home Yoga" (30 min)
Bad Yogi, a studio in Tampa, FL, and an online subscription community, is founded on this principle: "There's no time for snobbery, pretense, or taking ourselves too seriously. You'll have fun, learn, and most of all feel great about incorporating yoga into your life." In this sample on the Bad Yogi YouTube channel, co-founder and instructor Erin Motz brings you into her living room for a stretchy, slow, soothing 30 Minute Simple At-Home Yoga session.
6 YogiApproved's "Gentle Yoga Flow" (30 min)
Perfect for winding down after a long day or to simply give your body some love, "Gentle yoga is a great way to slow down, connect with your body, and calm your mind. This all levels juicy practice is ideal for anyone new to yoga, but everyone will enjoy this opportunity to move your body, breathe deeply and simply feel good," says instructor and YogiApproved founder Ashton Austin in this 30-Minutes All-Levels Yoga Class which is mostly seated and lying poses.
7 Boho Beautiful's "Full Body Flow" (30 min)
Impossibly gorgeous Juliana Spicoluk, co-founder of Boho Beautiful, takes you to an impossibly gorgeous setting in British Columbia for a fantasy class that really draws you in to the grounding practice, even if you're on your living room rug. A moderate paced flow with deep stretches, 30 Minute Full-Body Flow is narrated with Spicoluk's soothing and generous reminders to breathe with the movement for a meditative sequence. Her clear joy of what she's doing will inspire you to continue your practice. If you want more like this, there is a Patreon you can join for exclusive videos.
8 Five Park's Yoga "Deep Stretch for Athletes Yoga Class" (30 min)
This Deep Stretch for Athletes from Five Parks Yoga specifically focuses on getting your blood flowing back into the muscles typically used by athletes and weekend warriors. Instructor Erin Sampson holds each pose for a few minutes to make sure you get the deepest stretch possible, and really get in touch with what your body needs when it's sore. Ahhh!
9 Yoga with Adriene's "Yoga for Vulnerability" (35 min)
Yoga with Adriene is becoming so popular as yogis practice from home during the pandemic, we had to put her on our list twice! One of her latest videos, Yoga for Vulnerability, has already been viewed 1.5 million times since it was posted on April 4. In this "grounding" yoga session, Adriene will coach you to "focus on the rise and fall" and you'll leave with a sense of peace after the 35-minute session.
10 Cat Meffan's "Intermediate Vinyasa Flow" (60 min)
Australian Cat Meffan takes your practice to the next level (intermediate, to be specific) in this hourlong active Vinyasa flow. 1 hour Yoga Intermediate Level is meant for people who are already familiar with sun salutations and flow and can keep up a relatively vigorous pace. It also includes a headstand, so if you're not experienced doing inversions without an instructor present to spot you, it may be wise to skip that part or simply put your legs up against a wall.
This content is created and maintained by a third party, and imported onto this page to help users provide their email addresses. You may be able to find more information about this and similar content at piano.io