Apply for Emergency Assistance, Replacement EBT Cards In-Person
BCDSS customer care teams are available onsite to assist residents with applying for an Emergency Assistance to Families with Children (EAFC) grant or requesting a replacement or lost SNAP EBT card. Before visiting us, BCDSS strongly encourages visitors to call 443-423-6400 and make an appointment. Customers may drop off paperwork at any of our six centers during normal business hours.
BCDSS encourages customers to take advantage of the many services and transactions that can be completed online. Our new myMDTHINK.maryland.gov website (formerly myDHR) can be used to apply for benefits, look up an existing SNAP, TCA or MA case, check the status of your application, or submit case renewal documents. We also have dedicated customer service professionals waiting to assist you when you call 443-423-6400 or 1-800-332-6347.
Safety and Health Procedures
The safety of our visitors and employees is our top concern. We now offer appointments to minimize wait times. BCDSS also has installed plexiglass dividers at each station for enhanced protection. The wearing of face masks in state facilities is voluntary. Residents who are not fully vaccinated for COVID-19 are highly encouraged to wear a mask when visiting us. View our current procedure notice HERE.
NEW: BCDSS Eviction Assistance Program Update
Maryland's moratorium on evictions ends Aug. 15, 2021. We can assist you with paying your rent. To start a new application online, click here, or view our Frequently Asked Questions document for more information.
Your Baltimore City CAP Center can connect you to resources to get caught up on rent and avoid eviction. Visit https://www.bmorechildren.com/residents or call 410-396-5555 for further assistance.
Effective July 14, 2021, the Eviction Assistance Program office is moving to a new location: 1510 N. Guilford Avenue, 21202. This location is accessible by MTA Bus #53 and the nearby CityLink Gold and Green busses. To make an appointment to visit us, or for more information on our program, please call 443-423-4300.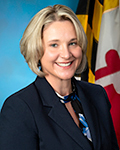 Brandi Stocksdale, LCSW-C.
Director
Baltimore City DSS Administration Building
Talmadge Branch Building
1910 N. Broadway Street
Baltimore, Maryland 21213
Phone: 443-378-4600
TTY:443-378-6502
Hours of Operation:
8:30 a.m. – 5:00 p.m.
Baltimore City Office of Child Support
Baltimore City Office of Child Support-East
1900 Howard Street, Suite 102
Baltimore, Maryland 21218
Baltimore City Office of Child Support-West
2401 Liberty Heights Avenue (Mondawmin Mall)
Baltimore, Maryland 21215
Hours of operation for the East and West locations:
Monday, 8:00 a.m. – 5:00 p.m.
(8:00 a.m. – 8:30 a.m. by appointment only)
Tuesday – Friday, 8:00 a.m. – 7:00 p.m. (8:00 a.m. – 8:30 a.m. by appointment only)
First & Third Saturdays, 9:00 a.m. – 12:00 p.m.
Contact Information
The Family Invesment Administration assists people in need by administering a wide range of public assistance programs.
Primarily, we help low-income people as well as families and children in crises. We help low-income city residents access food stamps, medical assistance and temporary cash assistance help them pay their heating bills when they lack the income to pay it themselves.
Financial Assistance
Assists low-income households to have a more nutritious diet by increasing their purchasing power.
A household is defined as a group of people who live together, buy food and prepare their meals together.
Everyone in the household MUST be included on the application.
A household consists of parents and any children, married or unmarried under the age of 22, and any children they may have residing in the home.
Adult children (22 or older) can be a separate household if they purchase and prepare their meals separately. The adult child would need to file a separate application.
There can be several different household units in the same family, in the same home.
For example: A 3 generational home can have 3 separate households if all the generations are purchasing and preparing their food separately.
Monthly benefits depend on:
number of people in the household
amount of GROSS household income
certain allowable expenses
Please Note: GROSS income is before taxes or anything else is taken out
Food Supplement is only part of the household's monthly food budget! Households must spend some of their own cash along with their Food Supplement benefits in order to buy enough food for the whole month.
Promotes individual responsibility and self-sufficiency through employment while providing a time limited cash assistance program for families with minor children.
Provides financial assistance to families with children under 18 years of age
Applicants MUST have a face-to-face interview.
Family must meet income guidelines and complete specific requirements before the case can be approved.
TCA Requirements:
Pursue Child Support
Applicants must:

Provide all available information on any non-custodial parent(s)
Cooperate fully with Child Support Enforcement Agency and the State's Attorney's Office

Establishing paternity
Enforcing court orders

Only certain circumstances may be determined as good cause for not meeting this requirement.
Please Note: You cannot receive Child Support and Temporary Cash Assistance! When you receive TCA, you assign your right to receive Child Support to the State of Maryland, who will collect and retain payments owed by the non-custodial parent(s) for the duration you receive TCA.

Cooperate with Substance Abuse Screener
Participate in Work Activity

Prepares participants for independence through employment
Includes job readiness program, volunteer work experience placement, and/or vocational education/training Applicants must:

Begin before case is approved
Complete number of assigned hours each week
Provide attendance verifications on a weekly basis – Only certain circumstances may be determined as an exemption from this requirement.
Provides a time limited cash assistance program for individuals with a disability that prevents them from remaining in the workforce. Income for a spouse in the household will be used to determine eligibility(Except for SSI benefits)
TDAP Requirements:
Cannot be working
Cannot have the capacity to work for at least 3 months
Cannot be receiving unemployment benefits
Disability (physical or mental) must be verified
May have to apply for SSI and SSDI
Must agree to reimbursement from SSI payment
Must be U.S. Citizen or legally admitted alien for permanent residency
Electronic Benefits System (EBT)
Eligible households are issued an Independence Card, similar to a bank card, to use at the store.
Cash benefits can be accessed from the ATM.
Benefits are applied to the card monthly.
If you would like to check the balance on your card or request a replacement card, please call: 1-800-997-2222. Please do not call the local office with questions about your EBT card!
Provides emergency cash assistance to families who need help paying an eviction notice, emergency fuel/heating shortage
Must have at least one related child under 18 living in the household
Must provide proof household can maintain on-going monthly rent and utilities
Available to a household only once in a 24-month period
Comprehensive health care insurance for aged, blind, and/or disabled adults and families with low income
Amount of coverage varies based on income, and assets for certain types of coverage
You MUST be US citizen or meet alien status and be a Maryland resident
Provides financial help with child care costs to eligible, low income families.
If you apply, you will be notified by mail once the list has been opened.
CCS Requirements:
Working, participating in approved school or training activity, or receiving TCA
Pursue child support
What type of child care provider can I use?
Licensed day care center or home
Informal child care provider
Person must be at least 18 years of age
Person can be a relative or non-relative

If a non-relative, care must be provided in your home
Person must consent to background check by Child Protective Services (CPS)
Proof of identity (driver's license, Maryland ID card, etc.)
Social Security numbers for everyone in the household
Proof of address (lease, utility bill, etc.)
Proof of income (recent pay stubs, benefit letters, etc.) for everyone in the entire household
Proof of household expenses (recent utility bills, child care costs, recent doctor or hospital bills, etc.)
Baltimore City News
Public Assistance to Entrepreneurship (PA2E)
The Public Assistance to Entrepreneurship Program (PA2E) offers classes on starting a business. Courses are conducted virtually and/or in a classroom setting with other Department of Human Services (DHS) customers…
Now Enrolling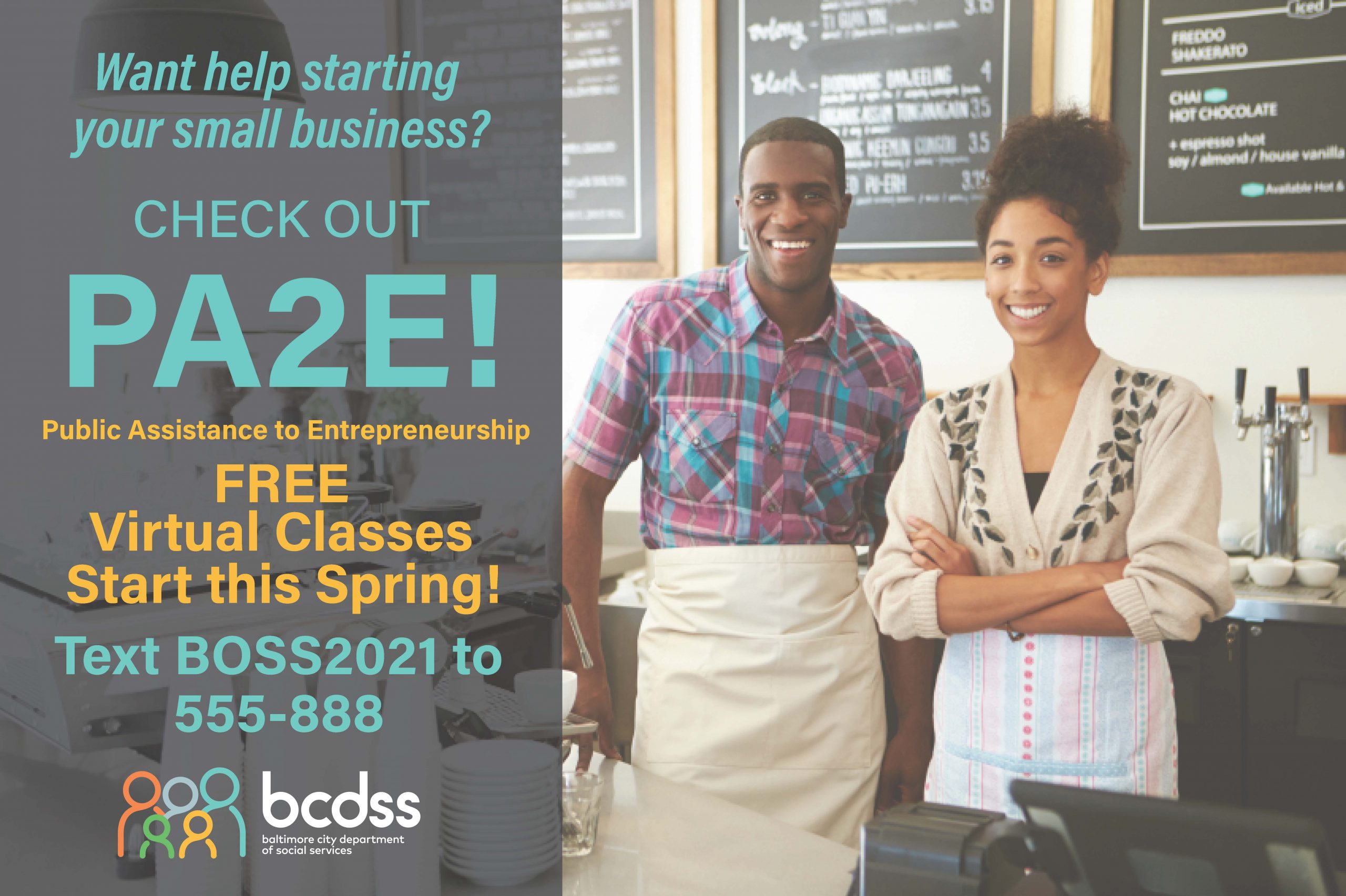 Agreement to Receive Text Messages
Public Assistance Centers
Public Assistance Customer Service | 443-423-6400
Location
Address
Northeast Regional Office
2000 N. Broadway Street
Baltimore, Maryland 21213
Dunbar-Orangeville Center
2919 E. Biddle Street
Baltimore, Maryland 21213
Harbor View Center
18 Reedbird Avenue
Baltimore, Maryland 21225
Hilton Heights Center
500 N. Hilton Street
Baltimore, Maryland 21229
Northwest Center
5818 Reisterstown Road
Baltimore, Maryland 21215
Penn-North Center
2500 Pennsylvania Avenue
Baltimore, Maryland 21217