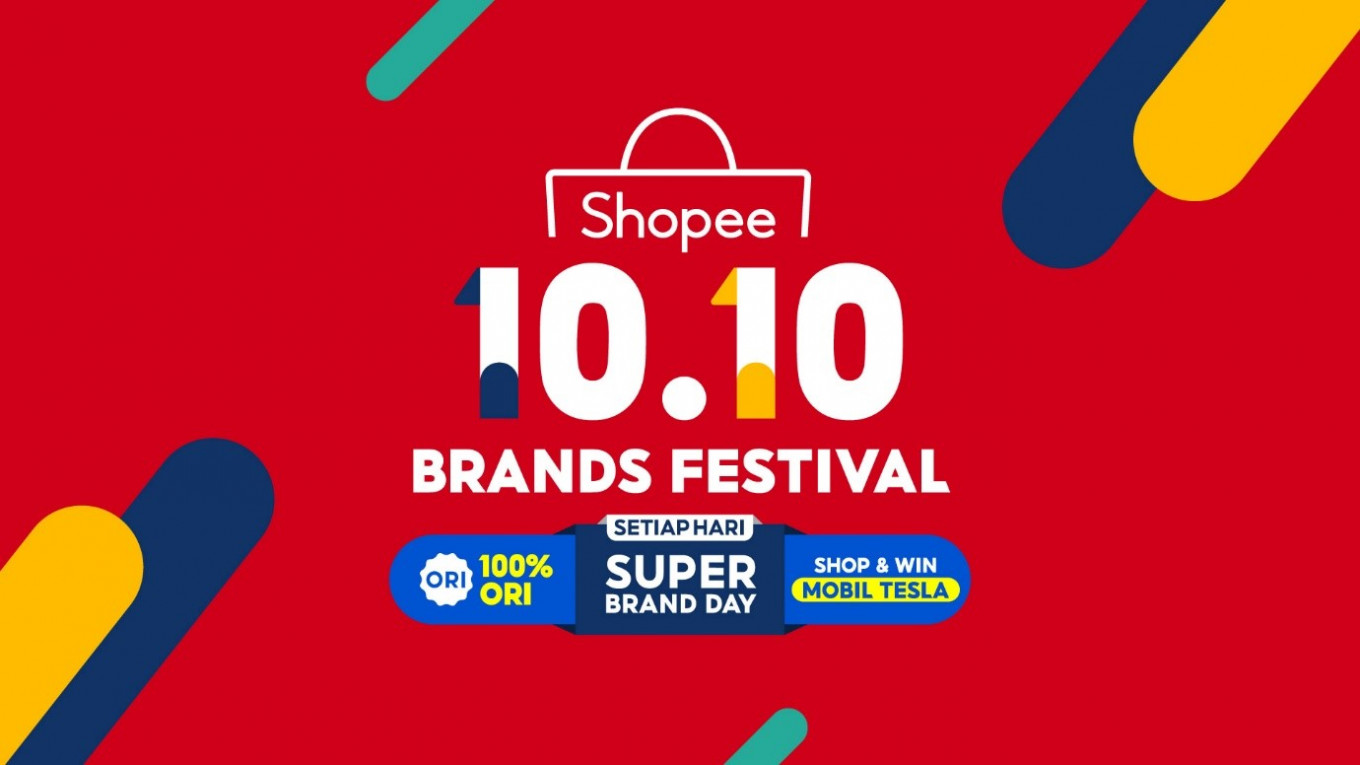 Inforial (The Jakarta Post)
Jakarta   ?   Fri, September 17, 2021 2021-09-17 13:20 31 01551940782bf1aa405406f86101fb2f 4 Inforial Free
Good news for all Shopee users!  
As an e-commerce platform close to Indonesian people, Shopee is back with its 10.10 Brands Festival offering bigger and more attractive deals from famous brand partners in the ShopeeMALL.
You can enjoy Super Brand Day every day featuring 18 well-known brands, and if you are lucky, you could be in with the change to bring home the luxury Tesla 3 car!
The 10.10 Brands Festival is the largest online shopping event across the regions where Shopee operates, dedicated to diverse brand partners.
The campaign kicked off on Sept. 13 and will run until Oct. 10. To enliven the event, Shopee has teamed up with various brands through their official stores only in the ShopeeMALL!
As always, during the 10.10 Brands Festival, Shopee offers the best deals on an array of products with 100 percent authenticity guaranteed and, of course, free delivery. What is so special about this year's event? Shopee is providing its users with the chance to win a Tesla 3 luxury car. 
Shopee Indonesia Director Christin Djuarto stated, "We are very pleased to see the enthusiasm surrounding the 10.10 Brands Festival campaign this time and we are committed to offering the best deals for users through running series up until the end of this year. The 10.10 Brands Festival campaign is a symbol of our appreciation for Shopee users for their loyalty, and also serves as a platform to present the best brand options through innovative programs each year."
He continued, "With the Super Brand Day series running daily, Shopee provides users brands by guaranteeing product authenticity presented in ShopeeMALL and, at the same time, supports our brand partners to reach out to awider consumer base. We hope that the campaign can meet all online shopping preferences for Indonesian people."
In this year's 10.10 Brands Festival campaign, Shopee will celebrate the brand partners that they have collaborated with, given products and the best services during the pandemic. Shopee is committed to helping and facilitating the development of brand partners and micro-small-and-medium enterprises (MSMs) spread across Indonesia.  
Below are ten programs and innovations that you can enjoy during the 10.10 Shopee Brands Festival campaign:
As many as 18 brands will take part in the enlivening Super Brand Day as part of 10.10 Brands Festival, featuring categories from beauty and fashion, to daily needs and electronics. Brands include Bayer, Paragon Group, Erigo, NIVEA, La Roche Posay, Reckitt Benckiser, Amore Pacific, Danone, Y.O.U, Maybelline, Xiaomi, Unilever, OPPO, Madame Gie, Scarlett Whitening, M231, P&G and Wipro Unza.
Do not miss out getting the best offers on all the items you desire!
There is a big chance you could bring home the luxurious Tesla 3, a car desired by many full of cutting-edge technology. The futuristic electric car gives passengers a truly comfortable and safe riding experience. The Tesla 3 is one of Tesla's best sellers, including outstanding features like the 15 inch- infotainment screen on its dashboard.
To win the Tesla 3, all Shopee users can participate by shopping during the 10.10 Brands Festival campaign. Want to have a greater chance of winning? Just shop in the ShopeeMALL! After finishing the purchase, you will receive a gold ticket that you can exchange for the Tesla 3.  Everyone has a chance to bring home this luxury car!
A variety of the best quality local brand options in ShopeeMALL
Apart from international brands, you can also discover a variety of high quality products from local brands such as Happyfit, Kintakun, Homyped and many more. If you shop at ShopeeMALL, you will discover three things that will ensure your online shopping experience is comfortable and safe: guaranteed 100 percent ORI, free returns for seven days and a free delivery promo for all users!
It is very generous isn't it?
Take note – on Sept. 13, you don't have to worry about delivery! Be calm, Shopee will bear the delivery cost so you don't have to. Two extra free deliveries and 90 percent cash back await you!
Here you can discover a complete array of fashion products, from T-Shirts, outers, sweaters, trousers, shirts, to jackets and many more, with discounts of up to 90 percent! So Sept. 18 is the right time to add to your wardobe! With the new collection, New Arrivals Tampil Stylish Dari Rumah (Stylish Looks From Home), you can still look cool when working or schooling from home.
Home and Living Brands Day
On Sept. 19, enjoy discounts of up to 80 percent on home items that can boost your productivity. If you have been feeling uncomfortable with working from home, you can use this opportunity to look for a brand new table and chair set that will fit you perfectly.
As the name suggests, you can find many promotions to take advantage of! Free delivery, ShopeePay deals Rp1, the Serba Seribu promo (All One Thousand promo) and many more. If you are fond of snacking, then ShopeePay deals Rp1is the right fit for you. Awesome, isn't it? Shopee Mantul Day will be held on Sept. 25 so do not miss it!
Looking for games? An array of games are available on Shopee! Shoppers are increasingly enthusiastic about buying games on the platform. You can find Shopee Tanam, Shopee Pets, Shopee Candy and Shopee Bubble, to name just a few. What is more? You can also play Shopee Potong or Shopee Tangkap Mode Jari during the 10.10 Brands Festival period on particular Super Brands Days to claim more amazing gifts from Shopee! You can only play these games through the Shopee app!
The beginning of the month is always a good time to restock household needs.  Perhaps your rice stock has run out, or your instant noodles you usually enjoy while watching your favorite movies till dawn! Oct. 3 is the right time for you to shop for these daily basic needs, especially with 'wow' discounts of up to 70 percent off. 
You can discover all the skin care and makeup products you need on Shopee!  Facial soap, toner, serum, foundation, mascara or lipstick, Shopee has it all! Don't forget to get this attractive promo on Oct. 9!
How is it? Isn't the 10.10 Brands Festival campaign very attractive? Hurry up and prepare yourself with 'war' equipment – let's hunt for our desired items and take the chance to bring home the grand prize, the Tesla 3!
For further information about Shopee 10.10 Brands Festival, visit https://shopee.co.id/m/10-10. Download Shopee Store App free of charge on the App Store or Google Play Store and activate ShopeePay now.